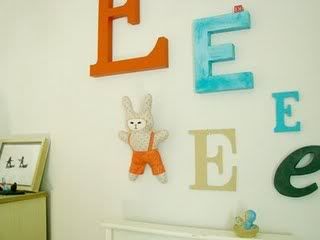 This photo is both hilarious, endearing, and cool from a featured nursery on
Apartment Therapy
. By the way, what is that bunny doing there?
Big, decorative letters seem to be a growing trend in interior design. You can get these letters
everywhere
now. The hardest part is really which letters to buy and what to spell. Suggestions anyone? Or should I just create an homage to this blog, M-I-S-M-A-T-C-H-E-R-I-E?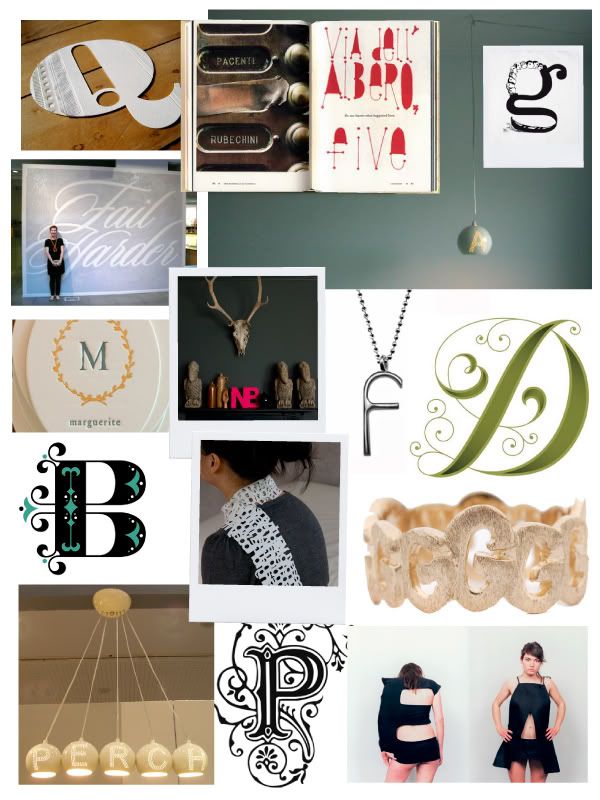 Clockwise from left:
Letter A light from
Perch! Design
Personalized G napkins from
Envelop

Letter D from
Daily Dropcap
F pendant from
Ariel Gordon
Initial ring from
MAstyle
Typographic fashion E and A from
TypeNeue
Letter P from
Briar Press
Letter Lights Balls from
Perch! Design
Letter B from
Daily Dropcap
Laser Cut Scarfs from
LittleFactory
Austin Press calling card from
Snippet and Ink
NB from
Wohnbedarf
Fail Harder Pushpin Board from
W+K
Cut paper Q from
Grayhood
Hand Lettering from
Joel Holland